American Indian Powwow: A Celebration of Culture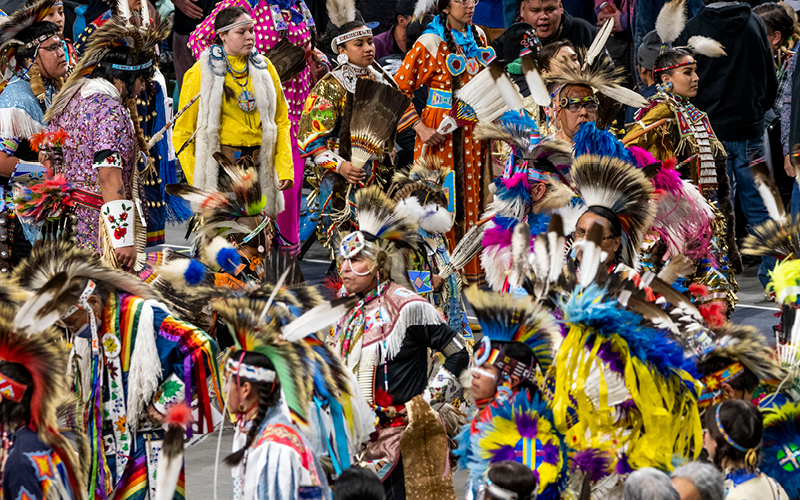 Photos by Bob Allen Images
The American Indian Council at Montana State University held its 46th annual powwow at Montana State University this past weekend, the first live event in two years. Fifty tribes from eight nations across Montana and surrounding states and Canada gathered for dancing, food, selling wares, and celebrating community.
Spectators filled the stands as drumming, singing, colorful dress, and dancing filled Brick Breeden Fieldhouse, reminding us of the rich culture Native Americans bring to our country.
The term powwow comes from "Pau-Wau," meaning "Medicine Man" in Narrtick, the language of the Algonquian people in Massachusetts. It originally stood for a healing ceremony conducted by spiritual or religious leaders of various tribes. European explorers mispronounced the term, and as more Natives learned English, "powwow" became the standard pronunciation.
Powwow dances were usually associated with religious ceremonies, homecoming celebrations for successful war parties, celebrations of new or reaffirmed alliances, and events sponsored by various warrior societies or extended family groups.
Today, the powwow is a way of celebrating Native culture and sharing it with others. Traditionally, the celebration was kept to tribes themselves, sometimes including friendly neighboring tribes. But today, powwows are intertribal and inclusive, open to all who wish to come.
WW I and II brought the warrior traditions back to the forefront, and the powwow became a place to celebrate and memorialize American Indian Veterans, where they continue to be honored.
Each day, the festivities begin with a drum roll call where 5-10 members of tribes (or families) gather around to sing and play one large drum together. These groups are situated around the perimeter of the dance arena and, one by one, answer the roll call with singing and drumming.
The Grand Entry begins with head male and female dancers leading the way, followed by flag bearers, most often veterans. The American flag is displayed to illustrate that the people gathered under it are not enemies of the U.S. There is an order to the procession; dancers in traditional dress come before those in fancy dress, and elders precede younger people. Once the dancers have entered the arena, a Flag Song, Invocation, and Veterans' Song usually follow.
The Grand Entry was not originally part of ancient culture. Instead, drummers and singers would begin to play, and people would dance whenever they wanted to. Today, the Grand Entry reflects tradition, respect for elders, and honor for veterans. 
Most powwows have dance competitions of various categories, vendors with booths of handmade jewelry, clothing, and other accessories, and concessions. 
Modern powwows are a time of coming together, honoring ancient ways of tribal life, and carrying on the tradition.
For more information, follow the American Indian Council at Montana State University.