7 Favorite Fall Activities in West Yellowstone, Montana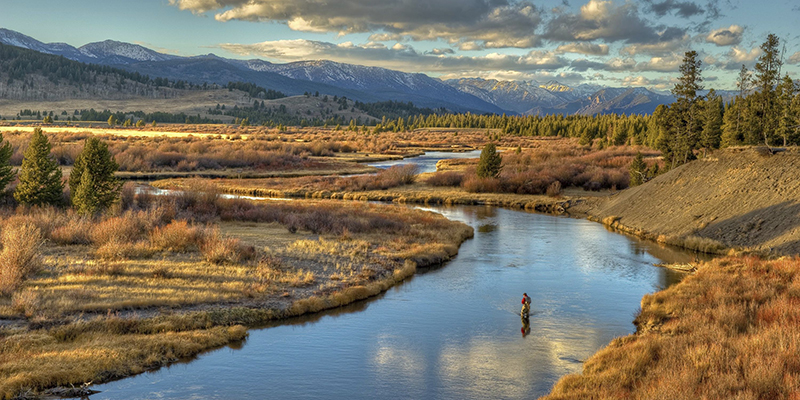 Photo by Ken Takata
The beauty of West Yellowstone in the fall is one of Yellowstone Country's well-kept secrets. Surrounded by millions of acres of public land, including Yellowstone National Park, there are seemingly endless trails for hiking, biking, or ATV riding. Next, brown trout begin to spawn and become active, making for fun fishing. Then, the weather turns cool, the colors turn bright, and crowds disperse, leaving an outdoor wonderland ripe for exploration.
Fishing
Montana anglers know that fall can bring some great fishing. Brown trout begin to spawn and can become quite active. A guided fly-fishing trip on the Madison or Gallatin Rivers is a beautiful way to learn if you're new to the sport. On Hebgen Lake, anglers use motorized boats to find pockets of rising fish, known as gulpers, casting dry flies. The name comes from the gulping motion the fish make when they rise to eat the latest hatch.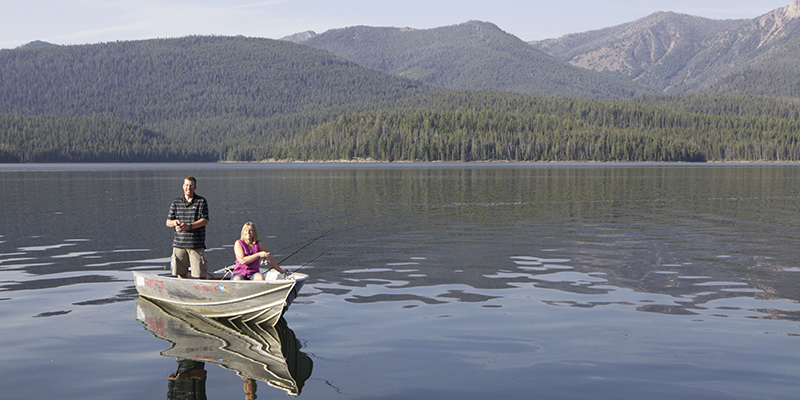 Photo by Cameron Lawson
Earthquake Lake Visitor Center
One of the strongest recorded earthquakes in North America occurred just past Hebgen Lake. In the middle of the night on August 17, 1959, an earthquake measuring 7.3 on the Richter Scale triggered 80 million tons of rock, moving at 100 miles per hour and killing 28 people camping nearby. The slide blocked the Madison River in less than a minute, forming Earthquake (Quake) Lake. The Visitor Center is perched on some of the enormous rocks that fell and is home to a memorial boulder with the victim's names. Open June through mid-September, the center has a panoramic view of the mountain that fell and the lake that formed, along with interpretive displays, movies, talks, and a working seismograph.
Hiking and Biking
West Yellowstone has more trails than you could cover in a lifetime close to Yellowstone National Park, the Continental Divide Trail, and the TransAmerica Trail. Yellowstone alone has over 1,000 miles of hiking within the park. Rendezvous Ski Trails also opens their system to hikers and bikers during the warm months, perfect for those just getting started
ATV and UTV Riding
The trail system loved by snowmobilers in the winter turns into an incredible opportunity for ATV and UTV riders in the summer. Maintained by the Forest Service, the trails are well-marked and in good repair. Two of the favorite trails, Two Top Mountain and Lionhead, lead to scenic vistas overlooking Montana, Idaho, and Wyoming. For longer rides, the trails link into the Island Park, Idaho, trail system.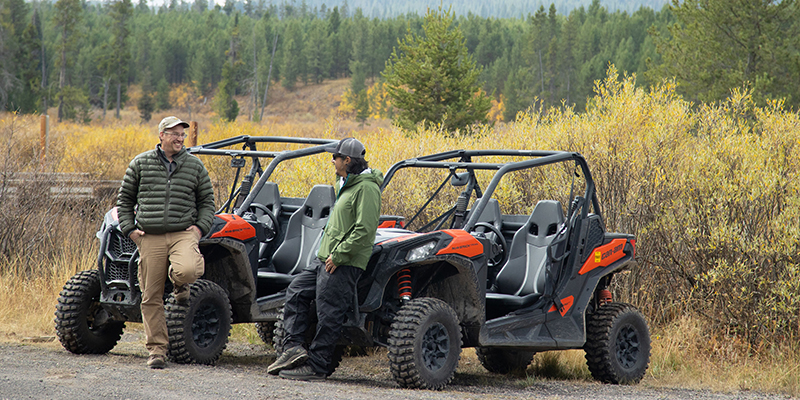 Photo courtesy Destination Yellowstone
Scenic Drives
The fall colors cast a golden hue across the landscape, making it a prime time for scenic drives. Yellowstone National Park slows down, and the wildlife is active. The elk rut begins, bears are actively eating and are seen more frequently in the meadows. Big Sky and Ennis, Montana, are lovely day trips, or several loops connect through Idaho.
Grizzly and Wolf Discovery Center
Grizzly and Wolf Discovery Center is a great place to learn about these fantastic creatures, a sanctuary for live grizzly bears, wolves, birds of prey, and otters who can no longer survive in the wild. Observe the animals in real life and learn about their lives through films and presentations. Keeper Kids, an interactive program, lets kids hide food for the bears then observe them finding it. In addition, there are ranger talks, a bear museum, and presentations throughout the year.
Shopping
 and 
Dining
West Yellowstone is full of specialty stores, galleries, outfitters, and some delicious food. Fewer people visit during the fall, making it a lovely time to peruse the stores and enjoy lively conversations with the local shop owners. Dining options range from casual fares such as pizza, burgers, or BBQ, to fine dining and fat steaks. There are also a couple of excellent ice cream shops, so save room for dessert!