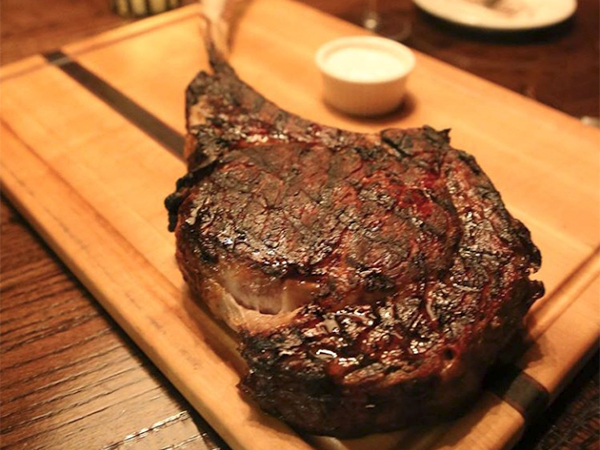 Steak, Carbon County Steakhouse. Photo, Reid Ramsay.
There's something about a juicy steak, hot off the grill and sizzling with flavor. You don't have to look very hard to find a good steakhouse in Montana, but if you're up for a short drive, there are some fantastic options tucked away in beautiful corners of the region. We've compiled a few of our favorites, but don't let that limit you. When you're visiting, ask around town, the locals will point you in the right direction!
Land of Magic Steakhouse
, Logan, Montana
There's one thing to know before dining at Land of Magic Steakhouse, come hungry. They don't mess around here; meals come with a relish tray, a mini loaf of bread, salad or shrimp cocktail, baked OR twice-baked potatoes followed by a scoop of Livingston's own Wilcoxin's ice cream. They cook the steaks to perfection, but if you're not in the mood for red meat, they have a lovely seafood menu or try the Duck a la Orange.
Pompey's Grill at Sacajawea Hotel
, Three Forks, Montana
The historic Sacajawea Hotel is home to Pompey's Grill and is well worth visiting just to see the beautiful building. Enjoy a signature craft cocktail before dinner on the sweeping front porch. Inside, the hotel and restaurant have been refurbished and elegantly appointed. The hand-cut steaks are fired hot on a wood smoke grill. We suggest adding one of the side sauces such as Morel Mushroom Brandy Cream, or Smoked Bleu Cheese Agave Butter with Worcestershire Glaze.
Sir Scott's Oasis
, Manhattan, Montana
This casual steakhouse is a great one to take the kids to. (Have them try the finger steaks!) Known for their excellent service, exceptional steaks, and prime rib, you'll find a relaxed atmosphere and delicious food. The patio is coveted seating during the summer months. Seafood lovers should try the Manhattan Steamer: clams, mussels, halibut, and crab steamed in garlic, white wine, and herbed butter.
Stacey's Old Faithful Bar and Steakhouse
, Gallatin Gateway, Montana
A quintessential western steakhouse, Stacey's is a local favorite not only for their hearty food but in non-pandemic times, their live music and dancing! (We cannot wait for those days to return.) They also serve local brews and great cocktails in a relaxed atmosphere. Save room for dessert, their homemade Hot Fudge Sundae Pie and Peanut Butter Pie are not to be skipped!
The Cowboy Bar and Supper Club
, Fishtail, Montana
The food at The Cowboy Bar is merely delightful; (we suggest The Cowboy, a 16-ounce rib steak, hand-cut and aged over 21 days!) However, Fishtail itself is worth the trip. This unincorporated community on the West Rosebud River is gorgeous. The road winds through rolling hills with the Beartooth Mountains in the backdrop. The whole experience is nothing short of relaxing.
The Grizzly Bar and Grill
, Roscoe, Montana
Another relaxed steakhouse in a gorgeous location, The Grizzly Bar draws people from around the region. You'll love their outdoor dining during the summer months, and in the winter, the woodburning fireplace adds a cozy dimension. Being the only restaurant in a town with a population of 15 people, they know how to draw a crowd! Fans rave about the prime rib, and the Tenderloin Medallions covered with sauteed mushrooms, onions, and bleu cheese crumbles with their signature Grizzly Rub. If you're a burger fan, you won't be disappointed; they are fat, juicy, and flavorful.
Looking for more exciting places to eat and drink? Check out the 
Best Dive Bars for a Beer in Yellowstone Country
.