Add to Trip Planner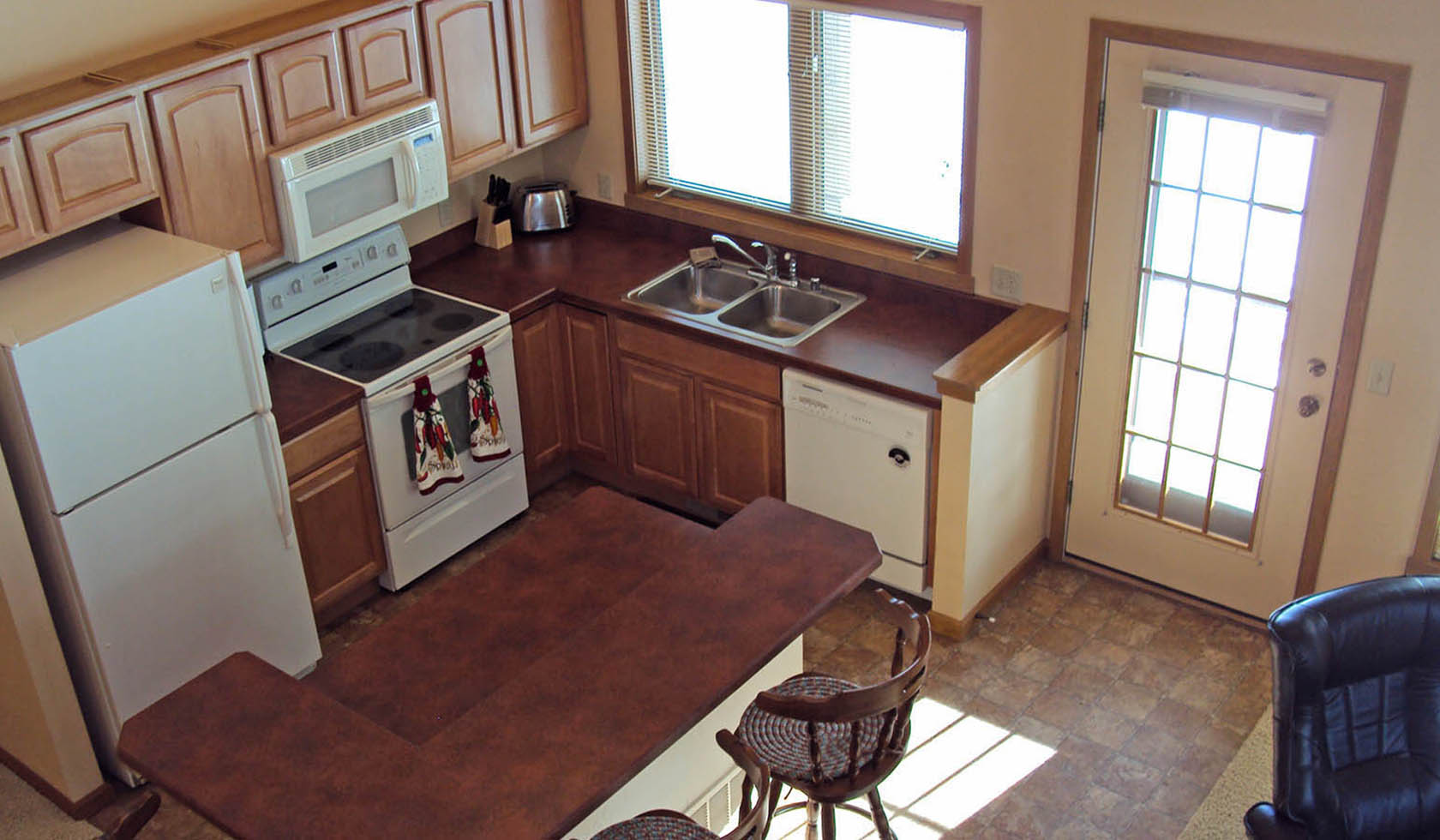 It's the kind of home you'll wish you lived in year round.
Open the door to this beautiful golf course house and you instantly want to drop your bags and call it home. This spacious open floor plan features 2 bedrooms, 2 baths and an oversized loft that sleeps 8.
The 2 bedrooms downstairs each hold a plush Queen sized bed. Both rooms have generous closets and full size dressers. The Master bedroom has an attached full size bathroom with a shower and tub. A pocket door takes you to a second ¾ bath with a shower. Tucked away upstairs in the large loft area is another Queen sized bed and a full bed. (Note: there is a dvd player but no tv.)
This home is perfect for entertaining. With the flip of a switch, you can enjoy an instant fire from the gas fireplace in the living room while you watch your favorite movie on the flat screen television.
The full kitchen has everything you need to prepare meals when you don't feel like venturing to town. (Which by the way is just a short mile away.) The ample countertops and user friendly island are just begging for you to serve up homemade cookies, a gourmet meal or perhaps a cocktail or two.
For times when you don't want to eat in, just step out the back door to dine on your patio overlooking the mountains and the golf course fairway. After dinner, take a dip and relax in the hot tub with those amazing views.
This vacation home is on a private road with no thru traffic. You will enjoy your own driveway and attached one car garage.
There is so much to see and do in Red Lodge and the surrounding area, but with a vacation home like this, you may never want to pull your car out of the garage until you have to go home.
House Details:
*2 Bedrooms downstairs each with Queen sized beds
*Master Bedroom (downstairs) has an attached full bath with shower and tub
*Loft area with Queen bed and Full bed
*Second ¾ bath with shower
*Open floor plan
*Fully stocked kitchen, user friendly island, refrigerator, electric stovetop and oven, dishwasher, coffee maker, table and chairs, service for 8.
*Gas fireplace in cozy living room
*Flat screen tv with Cable/Satellite, dvd player
*Patio set with hot tub overlooking fairway and mountains
*Stackable washer/dryer
*Attached one car garage/private driveway
*Quiet, private street (closed to thru traffic)
Name:
All Spruced Up
Phone: 406-446-2123
Email: rentals@redlodgeland.com
Street Address:
103 South Broadway
Red Lodge
,
MT
59068
Mailing Address:
PO Box 947
Red Lodge
,
MT
59068
Season: All Year
Payment Methods:
Cash
Discover
Master Card
Visa
Discounts:
All Spruced Up
It's the kind of home you'll wish you lived in year round. Open the door to this beautiful golf course house and you instantly want to drop your bags and call it home. This spacious open floor plan features 2 bedrooms, 2 baths and an oversized loft that sleeps 8. The 2 bedrooms downstairs each hold a plush Queen sized bed. Both rooms have generous closets and full size dressers. The Master bedroom has an attached full size bathroom with a shower and tub. A pocket door takes you to a second ¾ bath with a shower. Tucked away upstairs in the large loft area is another Queen sized bed and a full bed. (Note: there is a dvd player but no tv.) This home is perfect for entertaining. With the flip of a switch, you can enjoy an instant fire from the gas fireplace in the living room while you watch your favorite movie on the flat screen television. The full kitchen has everything you need to prepare meals when you don't feel like venturing to town. (Which by the way is just a short mile away.) The ample countertops and user friendly island are just begging for you to serve up homemade cookies, a gourmet meal or perhaps a cocktail or two. For times when you don't want to eat in, just step out the back door to dine on your patio overlooking the mountains and the golf course fairway. After dinner, take a dip and relax in the hot tub with those amazing views. This vacation home is on a private road with no thru traffic. You will enjoy your own driveway and attached one car garage. There is so much to see and do in Red Lodge and the surrounding area, but with a vacation home like this, you may never want to pull your car out of the garage until you have to go home. House Details: *2 Bedrooms downstairs each with Queen sized beds *Master Bedroom (downstairs) has an attached full bath with shower and tub *Loft area with Queen bed and Full bed *Second ¾ bath with shower *Open floor plan *Fully stocked kitchen, user friendly island, refrigerator, electric stovetop and oven, dishwasher, coffee maker, table and chairs, service for 8. *Gas fireplace in cozy living room *Flat screen tv with Cable/Satellite, dvd player *Patio set with hot tub overlooking fairway and mountains *Stackable washer/dryer *Attached one car garage/private driveway *Quiet, private street (closed to thru traffic)